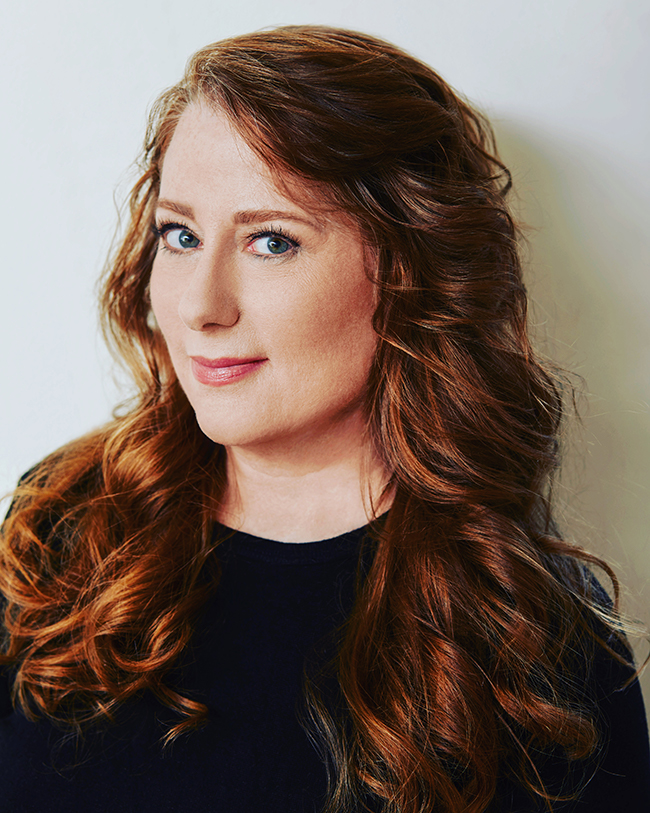 Nancy Jo Sales is an award-winning journalist, bestselling author and documentary filmmaker, known for her insightful and thought-provoking reporting and writing on youth culture, celebrity culture, technology and women's issues.
Sales began her career as a journalist in the early 1990s, working for New York magazine, Harper's Bazaar, Vanity Fair and other publications. Among her best-known articles is her 2013 piece for Vanity Fair entitled "Friends Without Benefits," which explores the world of teenagers and the pervasive influence of social media on their lives. The article went viral and sparked widespread discussions about the impact of technology on young people.
The article later served as the basis for Sales' 2016 nonfiction book, American Girls: Social Media and the Secret Lives of Teenagers, which delves into the lives of teenage girls across America and the pressures they face in the digital age, focusing on issues such as cyberbullying, online harassment, misogyny and sexualization. American Girls received acclaim for its in-depth reporting, analysis and Sales' ability to amplify the voices of young women and girls of diverse races, ethnicities and socioeconomic backgrounds.
In 2015, Sales gained recognition for her Vanity Fair article entitled "Tinder and the Dawn of the 'Dating Apocalypse,'" which explores the influence of dating apps on modern courtship. The article went viral and sparked a national conversation about the effects of technology on dating and intimate relationships. Sales' 2021 memoir Nothing Personal continues her research with further examination of how dating apps exacerbate loneliness and alienation as well as sexism, racism and LGBTQ discrimination.
In addition to her writing, Sales is a director and producer of documentary films. In 2018, HBO released her documentary Swiped: Hooking Up in the Digital Age, which explores the impact of mobile dating on contemporary dating culture, focusing on dating app addiction, the dehumanization of romance and the potential dangers of online dating.
Other notable articles by Sales include 2010's "The Suspects Wore Louboutins" for Vanity Fair, which tells the story of a group of California teens who burglarized the homes of Hollywood celebrities between 2008 and 2009. Sales' article became the basis for the 2013 Sofia Coppola film The Bling Ring starring Emma Watson.
In 2013 Sales expanded her reporting on the case with The Bling Ring, a non-fiction book which provides an in-depth account of the events surrounding the burglaries. The book examines the culture of celebrity obsession, materialism and social media influence that contributed to the motivations of the young people involved. The Bling Ring received attention for its compelling storytelling and commentary on fame, youth culture and the dark side of celebrity obsession.
In the late 1990s and 2000s, Sales gained attention for her coverage of New York nightlife and Young Hollywood. Her stories on the so-called prep school gangsters of New York chronicled the world of private school students and their fascination with hip hop culture.
Sales' best-known celebrity pieces include profiles of Courtney Love, Taylor Swift, Angelina Jolie, Gwyneth Paltrow, Lindsay Lohan, Paris Hilton, Hugh Hefner, Donald Trump, Damien Hirst and Randy and Evi Quaid. Her 1998 story on Leonardo DiCaprio, "Leo, Prince of the City," has been recognized as one of the most memorable celebrity profiles of the last several decades.
Sales' other notable crime stories include 2007's "The Golden Suicides," about the double suicide of artists Jeremy Blake and Theresa Duncan, and 2003's "Somebody Hung My Baby," which uncovered evidence suggesting that the hanging death of Feraris "Ray" Golden in Belle Glade, Florida, was not a suicide, as had been widely reported. After the publication of Sales' story, the police chief of Belle Glade resigned. In 2015 Sales covered the tragic mass shooting of the Iranian rock band the Yellow Dogs by a former bandmate.
A regular contributor to the Guardian and Vanity Fair, Sales remains an influential voice on subjects related to youth culture, technology, gender dynamics and gender inequality. She continues to write and explore the ever-evolving landscape of digital culture, offering insights into the challenges and complexities of living in a hyper-connected world.
Her work has been praised for shedding light on difficult aspects of contemporary society, offering readers and viewers a deeper understanding of the challenges and experiences faced by women and young people. She has spoken at nearly 100 high schools, middle schools, universities and organizations and been a featured speaker at conferences and events discussing youth culture and social media. She has appeared on many TV and radio news shows including Nightline, Good Morning America and Fresh Air with Terry Gross.
Born in West Palm Beach Florida in 1964, Sales attended Phillips Exeter Academy, graduating as a Presidential Scholar. She was a Phi Beta Kappa, summa cum laude graduate of Yale, which awarded her its Willet's Prize for fiction writing. She received her MFA in Writing from Columbia. Her awards include a 2010 Mirror Award for Best Profile, Digital Media, a 2011 Front Page Award for Best Magazine Feature and a 2015 Silurian Aware for Magazine Feature Writing. She has taught at the Craig Newmark Graduate School of Journalism at CUNY. She is the mother of Zazie Sales, a screenwriter and filmmaker.